Voici une petite présentation des ateliers que j'ai l'habitude d'animer.
Il est cependant tout à fait possible d'imaginer d'autres possibilités.
N'hésitez pas à me contacter !
Here is a short description of the workshops that I am used to give.
Of course, we can together think about any other possibilities.
Please contact me for any question or further informations.
ATELIERS DE DANSE
Que ce soit seul ou accompagné d'autres danseurs ou musiciens, il me plaît de participer à l'évolution des danseurs dans l'univers du bal folk.
La musique est jouée en direct live et/ou depuis un support externe.
Thèmes abordés : Danses de couple, Valse(s)…
Je propose une approche de la danse à travers l'écoute de soi et de la musique, du ressenti, des impulsions, de l'autre…
Et puis, rien de tel que de mettre en pratique après un stage. Dans l'idéal, après un atelier on fait donc un p'tit bal !
Durée des ateliers : minimum 2 heures
DANCE WORKSHOPS
Either alone or with other dancers or musicians, i like to contribute to the evolution of dancers into bal folk environment.
Music is played live and/or with an external device.
Topics : Couple dances, Waltz(es)…
An approach of dancing through inner and music listening, through perceptions, impulses, the other(s)…
Then, after a workshop, it is good to have a ball and dance some more !
Duration : minimum 2 hours
ATELIERS MUSIQUE
Explorez ou re-visitez la musique de bal folk.
Invitez votre instrument à jouer et à danser sur des morceaux populaires ou des musiques douces. Un travail spécifique sur les rythmiques est proposé pendant les ateliers.
Durée : minimum 2h
Ouvert à tous les instruments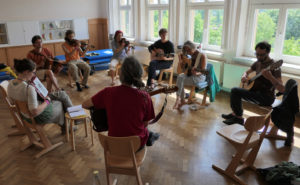 MUSIC WORKSHOPS
Explore or re-visit bal folk music.
Invite your instrument to play and dance on popular songs or sweet music.
Specific workouts on rythms are realized during the workshop.
Duration : minimum 2h
All instruments are welcome.